It's hard to believe that the leaves are turning, the backpacks are in the middle of the front entry, and that I'm about to start school on monday.
But I am still scrapbooking, and having fun with doing it.
I wanna share with you the September Reveal for
Scrapshotz
. I was lucky to work with the Prima line, and let me tell you, it was so much fun!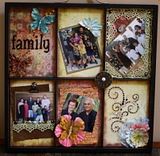 This 7Gypsies tray was sitting in my scrapbooking room with his other 2 brothers waiting for some love. I feeel it was waiting for the prima line!!
This was fun, adding flowers and bling to a boy picture
And lastly, CARDS are not my forte, but thanks to PRIMA I think I made some pretty nice looking cards!!!